Wednesday's Child begins its 33rd year!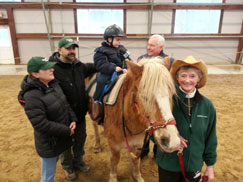 Photo by: Rick MacComber

Here, Jack takes 6 year old Donnie to Ironstone Farm in
Andover to tape a segment. Wednesday's Child is seen
every Wednesday's night on the 6:00 news on WBZ-TV.
---
IL CAPRICCIO DINNER PASSES THE $1,000,000 MARK FOR WEDNESDAY'S CHILD


For the 13th year this October 14th, Chef Rich Barron welcomed Wednesday's Child to his top-rated restaurant in Waltham. Supporters and our friends at Bank of America contributed $100,000, bringing the accumulated total to over a million dollars. read more / photos


---
CONGRATULATIONS

!
Jack & Marci Williams have been selected by the Board of Trustees and Board of Directors to receive Spaulding Youth Center's 9th annual You've Got a Friend Award, to be presented Oct. 17th at their 55th annual celebration.


---
Update on former Wednesday's Child TJ

Jack: Just wanted to keep you up to date on TJ. He is doing fabulous and as you can see he is following in his big brothers football cleats. Thanks for all you do for special little guys like TJ.

They completed the mission, 9-0 undefeated winning their Super Bowl Saturday 16-6 over Amesbury. This little guy never stops amazing us. All the best, Chris and Bonnie Muise
---

Wednesday's Child Loses a Great Friend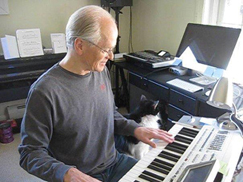 Lenny Emery, known as the piano man of Waterville Valley, died August 15th, after battling an illness for half a year. Lenny volunteered for Wednesday's Child Ski Race at its inception in the mid-80's and set up the sound system each year and played piano during the annual reception after the ski racing to raise money for Wednesday's Child. Since Lenny was a professional entertainer, he had to take a Saturday night off each year to help with the event, even though that was his biggest money maker at various hotels and restaurants.
Lenny was a great skier and loved to make first runs down the mountain as soon at the lift opened. He and Jack and Marci Williams were close friends.
Lenny was at every ski race for Wednesday's Child (30 of them) and he told Jack it was his favorite event.
---





Brian O'Connell loved Wednesday's Child

Brian died May 12th in New Hampshire. He was only 63. We learned recently that Brian named Wednesday's Child in his will. We have received a check for more than $50,000, which will go to help special needs children find adoptive homes. His attorney said: "Brian always loved Wednesday's Child."
---
Wendy's Customers Raise $226,844
For Wednesday's Child!
The 2013 Wendy's one dollar coupon drive for Wednesday's Child was a huge success. For every dollar donated, the customer received a coupon book for Junior Frosties and Fries. The two month campaign is over and a check was presented Friday, May 3rd, to Marci and Jack Williams for the Endowment for Wednesday's Child. For decades, Wendy's has followed the initiative of founder Dave Thomas (a big supporter of Wednesday's Child) and has contributed millions of dollars for special needs adoption in New England.
Our thanks to the hard working managers of the 100 participating Wendy's for their hard work and dedication to children.
---
---

See more photos from the dinner here.

Ruthie Antonides Volunteer Award
This year's Ruthie Antonides Volunteer Award recipient is Bob Stone of New York, formerly of WBZ, who has travelled to Waterville to volunteer for the ski race for years. Shown with Marci and Jack at the Volunteer Appreciation Dinner in Waterville Valley March 9th, which would have been the date of the ski race.
---



Wednesday's Child
Success Story: Gary
Joseph and Jennifer first learned of Gary when they saw his Wednesday's Child segment on September 15, 2010. They legalized their adoption six months later at National Adoption Day. more




Many thanks to
Yankee Magazine
for another year of helping
Wednesday's Child!
---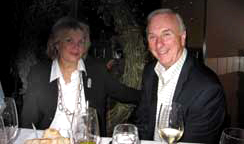 ANN FINUCANE; SPECIAL FRIEND OF WEDNESDAY'S CHILD
Over the years Ann Finucane has helped raise money for Wednesday's Child and special needs adoption. Ann, an official at Bank of America, had directed contributions from Bank of America as well as other sources to help provide care and eventually adoptive homes for these children. She has done so quietly, with dignity and compassion. She is shown in the picture with John Collins a member of the Wednesday's Child board and treasurer of the Jack and Marci Williams Endowment for Wednesday's Child.
---
The 30th Anniversary of Wednesday's Child Celebration at Jordan's Furniture in Reading with Jack & Marci Williams

- Slide Show