The Metro SWAT Officers Association (MSOA) and Gillette Stadium are excited to announce their 2014 Fitness Challenge to raise money to provide for children in need. Please get your team ready and help us reach our ambitious fundraising goals.

Building on the success of the 2013 event we decided to organize a fitness challenge that would be open to the public, with the proceeds being donated to worthy causes throughout New England by partnering with the New England Patriots Charitable Foundation, Jack Williams' Wednesday's Child and the Special Olympics Massachusetts. This year the MSOA and Gillette Stadium will once again be hosting this overnight fitness challenge at Gillette Stadium, starting at 10:00p.m. on Saturday July 19th and finishing at 10:00a.m. on Sunday 20th. This year's event will not be restricted to first responders, but it will be limited to 100 teams, each team consisting of between 10 and 15 participants. Each team will be required to raise a minimum of $10,000 in order to take part in the challenge. MSOA is a 501(c)(3) non-profit organization.

MORE INFORMATION ABOUT THIS YEAR'S
CHALLENGE!
---
Wendy's Customers Raise $180,000
For Wednesday's Child!


Another successful year for the Wendy's Wednesday's Child coupon campaign. Jack was on hand in Westford, MA. Tuesday, March 25th, at the Wendy's managers rally. He was given a check for $180,000 for Wednesday's child, the amount raised by customers buying $1 coupon books at Wendy's stores in Massachusetts and New Hampshire. Over the years, Wendy's has raised more than $3-million for Wednesday's Child.
---
Wednesday's Child 33rd year!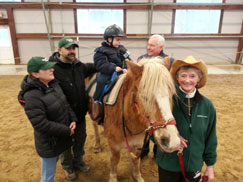 Photo by: Rick MacComber

Here, Jack takes 6 year old Donnie to Ironstone Farm in
Andover to tape a segment. Wednesday's Child is seen
every Wednesday's night on the 6:00 news on WBZ-TV.
---
CONGRATULATIONS

!
Jack & Marci Williams were selected by the Board of Trustees and Board of Directors to receive Spaulding Youth Center's 9th annual You've Got a Friend Award, presented Oct. 17th 2013 at their 55th annual celebration.


---
Update on former Wednesday's Child TJ

Jack: Just wanted to keep you up to date on TJ. He is doing fabulous and as you can see he is following in his big brothers football cleats. Thanks for all you do for special little guys like TJ.

They completed the mission, 9-0 undefeated winning their Super Bowl Saturday 16-6 over Amesbury. This little guy never stops amazing us. All the best, Chris and Bonnie Muise
---
IL CAPRICCIO DINNER PASSES THE $1,000,000 MARK FOR WEDNESDAY'S CHILD
For the 13th year in Oct. 2013, Chef Rich Barron welcomed Wednesday's Child to his top-rated restaurant in Waltham. Supporters and our friends at Bank of America contributed $100,000, bringing the accumulated total to over a million dollars.
read more / photos
---



Many thanks to
Yankee Magazine
for another year of helping
Wednesday's Child!
---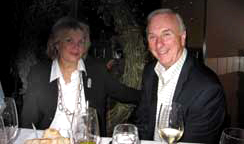 ANN FINUCANE; SPECIAL FRIEND OF WEDNESDAY'S CHILD
Over the years Ann Finucane has helped raise money for Wednesday's Child and special needs adoption. Ann, an official at Bank of America, had directed contributions from Bank of America as well as other sources to help provide care and eventually adoptive homes for these children. She has done so quietly, with dignity and compassion. She is shown in the picture with John Collins a member of the Wednesday's Child board and treasurer of the Jack and Marci Williams Endowment for Wednesday's Child.
---
The 30th Anniversary of Wednesday's Child Celebration at Jordan's Furniture in Reading with Jack & Marci Williams

- Slide Show