FITNESS CHALLENGE, SWAT TEAMS, &
WEDNESDAY'S CHILD!
Join Us September 27th & 28th

The 2014 New England Fitness Challenge is open to the public. It's a fundraising campaign to raise money to provide for children in need and the Boston Fire Department hero's of 3/26/2014.
A reminder: WBZ is the media sponsor for the New England Fitness Challenge at Gillette Stadium September 27th and 28th. It's run by police swat teams. Wednesday's Child will receive part of the charity funds raised. For information on the fitness challenge, go to cbsboston.com
Do you have what it takes? Get your team together now and sign up here nefc2014.com.
Metro SWAT Officers and Their Wives Join
Marci and Jack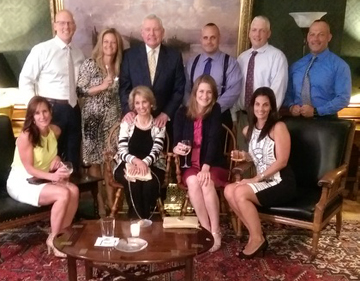 Final plans have been made for the upcoming Fitness Challenge at Gillette Stadium in Foxboro, organized and run by elite members of the Metro Swat team. Key members joined with Marci and Jack for a planning dinner. Attending were; Chris Soffayer, Toni Manzon, Jason Brennan, Carly Brennan, Chris Baker, Leeanne Baker, Eric Copeland, Annie Copeland. Supporters are encouraged to join with their friends and enter the competition (teams of between 10 and 15). Great prizes. Information can be found at nefc2014.com
The date is the night of September 27th-28th.
Barry Burbank Given Wednesday's Child
Volunteer Award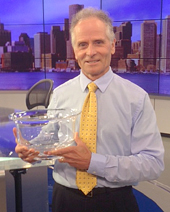 Meteorologist Barry Burbank of WBZ-TV was given the Ruthie Antonides Volunteer Award for 2014 after giving all of his speech money to Wednesday's Child. Over the years it has amounted to tens of thousands of dollars. Barry praised the school children who wanted to help Wednesday's Child and raised money with bake sales, giving up their allowances and other events. Barry has been visiting schools for years, getting youngsters interested in meteorology. Barry has been a top talent at WBZ TV for 37 years.

Ruthie Antonides was a volunteer for 24 years at the annual Jack Williams Ski Race for Wednesday's Child. She died of cancer but her last thoughts were of the kids who need adoptive homes.
---
In Honor / In Memory Donations
In recognition of Ava Lecompte's adoption, contributions were made to Wednesday's Child by:
Melanie Allen of Dorcester
John Fransoza of Brighton
Mark and Julie LeCompte
Suzanne Sullivan of Arlington
Emily Mitchell of Bedford
John Fransoza of Brighton
Mark and Julie LeCompte

In recognition of Ava LeCompte's birthday, contributions were made to Wednesday's Child by:
Angela Sanchez of North Grafton
Melissa Bradley of Newton.
In Memory of William Payne a contribution was made by:
Ginny Birmingham of Cambridge

Please visit In Memory page for more.
---
THANKS KIDS!
They wanted to do something for Wednesday's Child:
5th graders at the Horace Mann School in Newton held a bake sale for Wednesday's child and raised $391.86.
In Worcester, at the Columbus Park Prep Academy, they donated their allowances for two months and sent Wednesday's Child a check for $300.


---
Wendy's Customers Raise $180,000
For Wednesday's Child!


Another successful year for the Wendy's Wednesday's Child coupon campaign. Jack was on hand in Westford, MA. Tuesday, March 25th, at the Wendy's managers rally. He was given a check for $180,000 for Wednesday's child, the amount raised by customers buying $1 coupon books at Wendy's stores in Massachusetts and New Hampshire. Over the years, Wendy's has raised more than $3-million for Wednesday's Child.
---
Wednesday's Child 33rd year!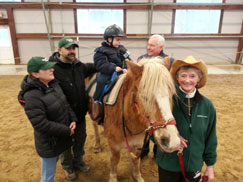 Photo by: Rick MacComber

Here, Jack takes 6 year old Donnie to Ironstone Farm in
Andover to tape a segment. Wednesday's Child is seen
every Wednesday's night on the 6:00 news on WBZ-TV.
---
CONGRATULATIONS

!
Jack & Marci Williams were selected by the Board of Trustees and Board of Directors to receive Spaulding Youth Center's 9th annual You've Got a Friend Award, presented Oct. 17th 2013 at their 55th annual celebration.
---
IL CAPRICCIO DINNER PASSES THE $1,000,000 MARK FOR WEDNESDAY'S CHILD
For the 13th year in Oct. 2013, Chef Rich Barron welcomed Wednesday's Child to his top-rated restaurant in Waltham. Supporters and our friends at Bank of America contributed $100,000, bringing the accumulated total to over a million dollars.
read more / photos
---
---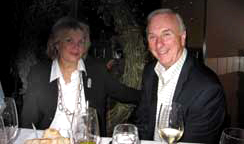 ANN FINUCANE; SPECIAL FRIEND OF WEDNESDAY'S CHILD
Over the years Ann Finucane has helped raise money for Wednesday's Child and special needs adoption. Ann, an official at Bank of America, had directed contributions from Bank of America as well as other sources to help provide care and eventually adoptive homes for these children. She has done so quietly, with dignity and compassion. She is shown in the picture with John Collins a member of the Wednesday's Child board and treasurer of the Jack and Marci Williams Endowment for Wednesday's Child.
---
The 30th Anniversary of Wednesday's Child Celebration at Jordan's Furniture in Reading with Jack & Marci Williams

- Slide Show